1 - Installation​
info
It is recommended to have 100GB of storage available. This is necessary for the Blockchain data.
1.1 - Download the Windows installer for Energi Core Node by going on the Download page below:
1.2 - After downloading the installer, double click to start installation.
1.3 - You may see a warning, click More info and Run anyway.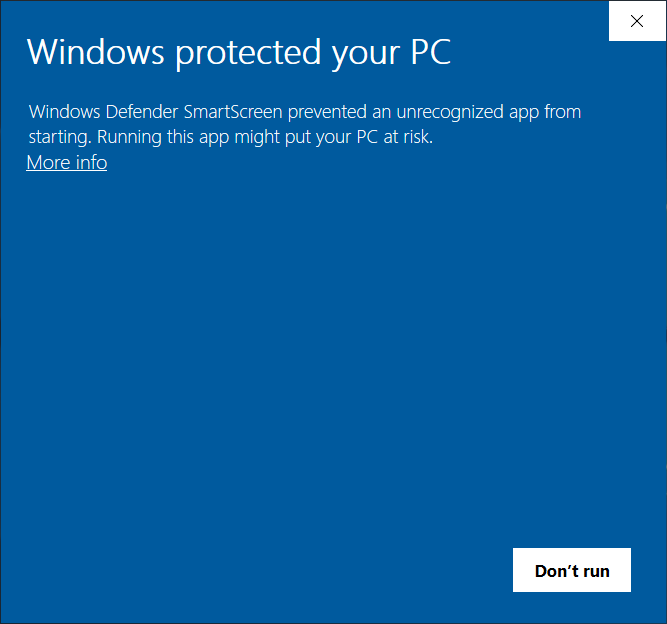 1.4 - The setup will begin. Follow the procedure and change the destination folder if needed.
Click Install when you're ready.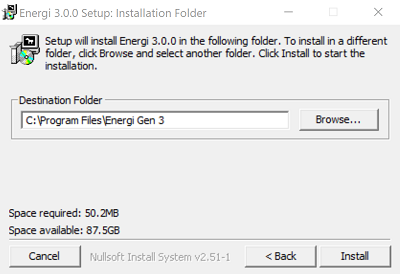 2 - Start Core Node & Attach​
2.1 - Head over the Start Menu where all the shortcuts for Energi Core Node are: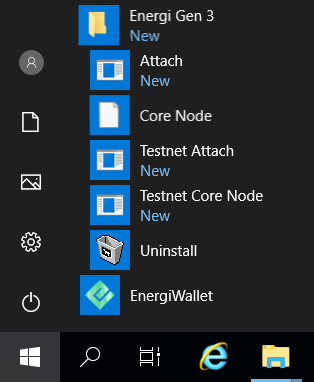 2.2 - Right click on the following two applications to add to your Desktop shortcut for an easier access and then start them:
info
Core Node is the Energi Core Node. Always run it first.Attach is the console where you will be able to run commands.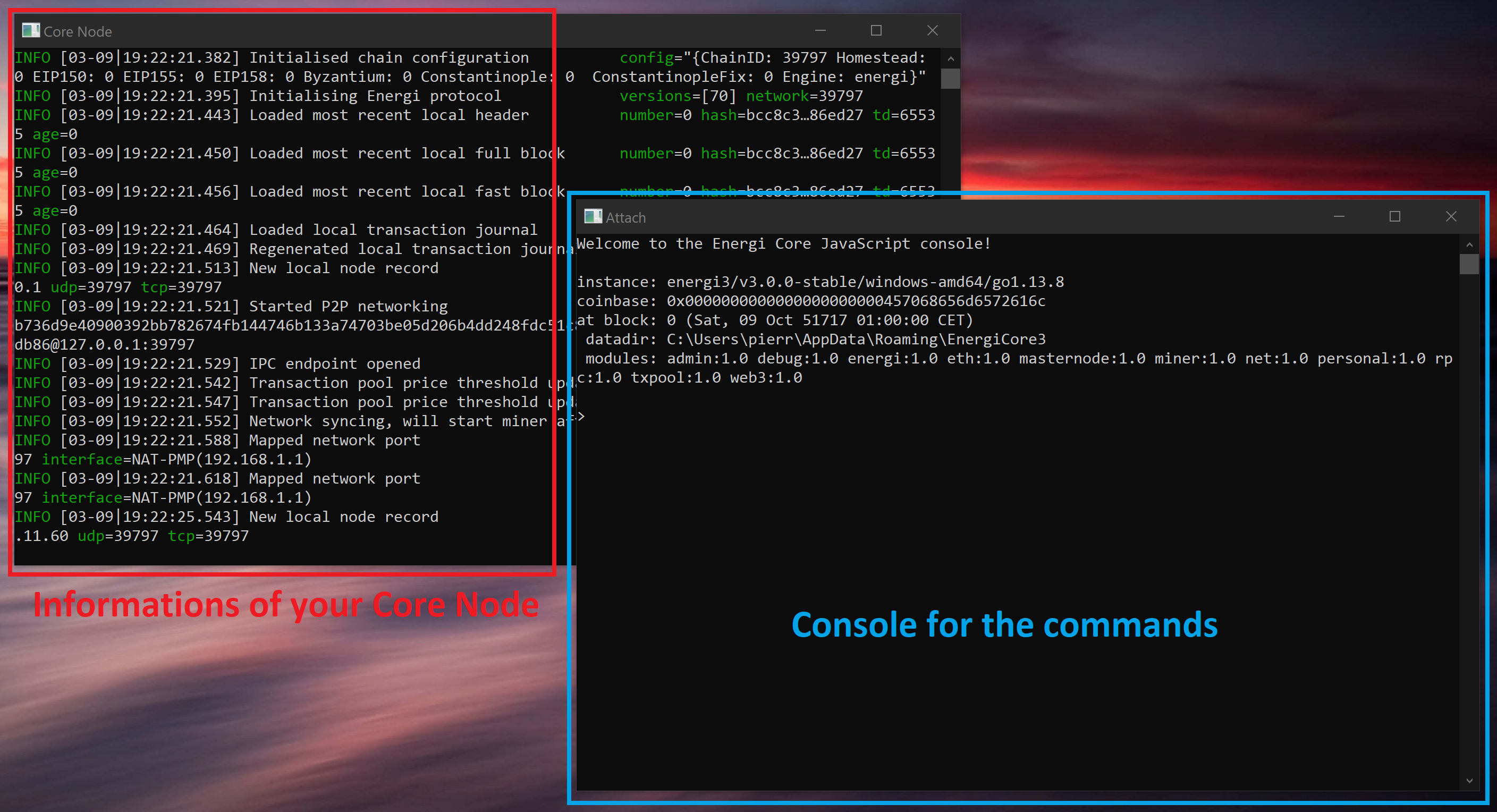 2.3 - Energi Core Node will now start synchronizing with the Blockchain!
info
You can follow the synchronization progress by using the nrg.syncing command on your Attach terminal. Keep in mind that for new installations, it can take an average of 48 hours to completely synchronize your node to the latest block.
danger
You will need to keep Core Node opened all the time if you want to stake. If you close it, the application will stop. You can minimize the Terminal window to keep the node running.
Congratulations!
You have successfully installed Energi Core Node on Windows!
3 - Import your wallet file​
info
We are going to import the wallet previously created in MyEnergiWallet.
3.1 - Close Energi Core Node before going through the next steps.
3.2 - Open File Explorer and go to the directory where Energi Core Node files are located:
%APPDATA%\EnergiCore3\keystore



3.3 - Simply drag & drop your wallet file in the folder.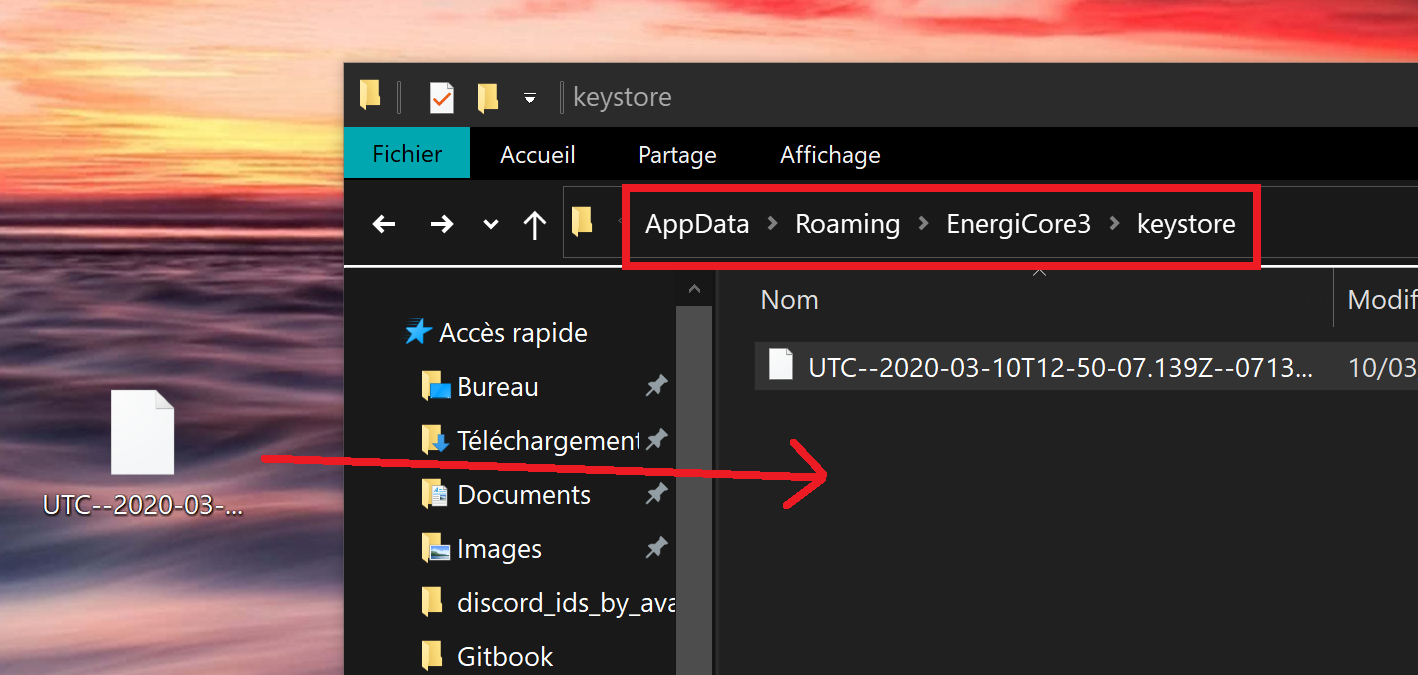 3.4 - Restart Energi Core Node, and check your accounts with the command below:

Congratulations!
You have successfully imported your wallet! You are now all set!
Next step - Staking​
Now that you completed the Energi Core Node installation, you can follow the Staking Guide :
Need help?​
Get technical assistance :
Help me! Get technical assistance by the Energi team